This series is a compilation of beautifully crafted writings by members of the Literary Cafe (TLC) Plus as part of their daily tasks. So the first series is from Debbie; the lover & Daniel; the heart-breaker. I hope you enjoy reading it.
PS. This is a work of fiction. However, the characters are real.
————-
FROM DEBBIE 
Letter 1
Daniel Darling,
If I were to tell you how much I loved you,
Then the waters of the ocean would dry up
The lands would be empty of sand
And I would still not be able to quantify
My love for you.
If I were to add you and me
I would subtract our clothes
And maybe let you divide my thighs
So we can multiply the times you make heavy
My love for you.
If I were to whisper in your ears
The strong passionate love you make me feel
Every time our breath shares a common space
It would be that my tongue has lost its mind
And I am prepared to explode in satisfaction
Of my love for you.
If I were to take the shape of your hands
I will gladly roam your body at every bath
At every scratch of your itchy face,
I'll caress your cheeks and let you bite
The fingers that is me when you feel nervous
Because of my love for you.
Oh Dan, the night is getting cold without you by my side
But then I remember I met you yesterday
And that you left your warm hugs with me
So I run to grab the shirt I wore to the event
And lay it beside me…it smells of you
It smells so good my heart burst with excitement.
Oh Dan, let me paint your body with my love
Let me drink of the alcoholic goodness served by your lips
Oh please wrap me in the spell of your warm embrace and cuddles
For even though nothing lasts forever
My memory can last forever in your embrace
Just hold me tight, please.
SHE  STILL GOES ON:
Images culled from Google.
Letter 2
Daniel Sugarplum,
I have never felt this way before
For someone I really truly adore
No matter what I get from you
My passion won't vanish anymore
For I am wildly in love with you Dan.
Your abs and beards are just a masterpiece
For which I will give my life and more
Your smile just shines up my day
When nothing goes the right way.
All I need right now Dan
is just to embrace you with the pretty face
Just a sip of your almost pink lips
While my arms wait around your hips
Oh how madly in love with you am I Dan
I want to feel your body shiver
Your heart jumping off your chest
I want to smell your gorgeous scent
Kiss you in each and every inch
I want to feel you rise below
Only at my presence & every touch
Oh! Dan, I love the way you hold your lower lip
Between the jaws while you think
I miss the act I repeat to tease you
Your words echoing all the time
Still, I die to hear those words from you
Oh! My love where are you? Where are you?
Come Daniel let's consummate this love already!
DANIEL REPLIES DEBBIE: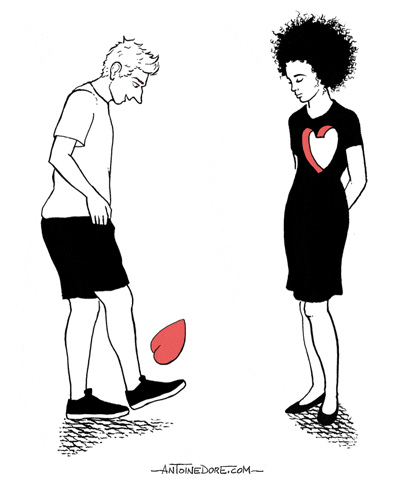 Dear Debbie,
Is it you?
Is it me?
As far as my uncertainty goes,
one thing is sure,
I do not love you
Never have, never will
I read your letters,
The words made my eyes roll more times
than a pair of casino dice on a Friday night
Could I love you?
I can't do the impossible
I was like you once,
Young, foolish and in love
I loved a woman
a woman who said she loved me,
She left me in a pool of tears,
and with a black hole where my heart used to be
I know you will say you love me enough for both of us,
Your love, surplus as it is, means nothing to me
When you say you love me and all my flaws
I laugh,
Life is not a romance novel or an Ed Sheeran song
Some things cannot be fixed
I am not a pet project or a sick puppy
I am a Yoruba demon,
a thing to be exorcised not cuddled
Sister Deborah,
this is not me breaking your heart
this is me setting the records straight,
you fell in love with a wrecking ball
now your heart is just like mine,
in pieces.
——–
Please don't forget to leave your comments below, the writers are happy to know what you think.
Thank you.